Cross that survived St. Joe's fire in 1970 up for auction
Submitted by Howard Owens on September 6, 2012 - 7:51pm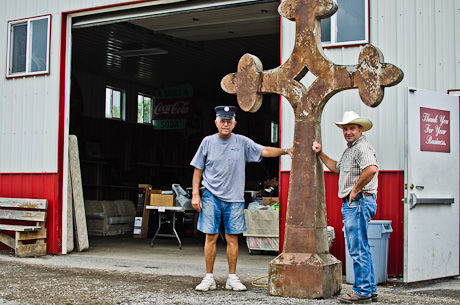 A bit of Batavia's history will be up for auction next Wednesday at Bontrager's Auction house on Wortendyke Road, Batavia: A cross that once adorned the old St. Joe's Church.
A fire on Aug. 18, 1970, destroyed the church and the Gilhooly family in Attica acquired the cross. The family has decided it's time to let somebody else care for the historic relic.
Pictured with the cross are Todd Jantzi, right, owner of Bontrager's, and one of his employees, Dave Harms, who was a young volunteer firefighter with East Pembroke in 1970.
Harms said he remembers the fire well. He and Gail Seamans were among the first on scene and manning a hose line.
Flames, he said, were jumping out of the bell tower and church windows. It's one of the most involved structure fires he's ever seen.
Along with East Pembroke, assisting Batavia City Fire Department, were Stafford, Oakfield, Elba and Bethany fire departments.
At the time of the fire, the church, built in 1864, was scheduled for demolition. The cause of the fire was never determined.
September 7, 2012 - 6:28am
#2
That looks pretty cool, but where would it? LOL
(* edited)