Council gets progress report on business development efforts in Batavia
Submitted by Howard Owens on January 29, 2013 - 5:34pm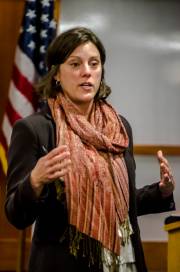 The Batavia Development Corp. helped create 12 new full-time jobs in Batavia in 2012, according to a report given to the city council by Economic Development Coordinator Julie Pacatte.
The BDC invested $146,555 in local businesses to leverage another $131,787 in private investment, for a total investment in business growth of $278,342.
The effort helped fill about 20,000 square feet of retail and office space downtown.
The agency also administered the city's building improvement program, based on a state grant.
The $460,000 grant program is being combined with a projected $1.4 million in investment by property owners. So far, four of six projects have been completed, including brick work on the Masonic Temple and a new facade on the PennySaver building at the corner of Liberty and East Main streets.
Among the priorities for the BDC in 2013:
Carr's warehouse redevelopment
Advance the Batavia Opportunity Area
Co-host creative thinking and entreprenuerial workshops
Recapitalize loan funds
Help businesses navigate planning and zoning
Advance the "Vibrant Batavia" efforts
Among the specific items discussed is an effort to use the Harvester Center to incubate food-processing businesses that might some day move up to the Genesee Valley Agri-Business Park or provide support for businesses in the park.