Corfu mayor gets little support at meeting where trustee pushes for his resignation
Submitted by Howard Owens on April 12, 2013 - 11:18pm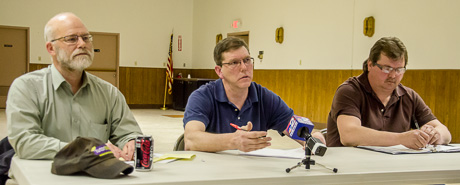 Corfu Mayor Ralph Peterson may have won the 2013 election by a mere two votes, but it was clear Friday night that whatever support he once had in Corfu has largely evaporated over the course of his two weeks in office.
Following a week in which he has come under increasing attack by fellow trustees and Corfu residents, not one resident showed up to Friday's evening meeting to support Peterson, even though it was clear beforehand that his leadership would be challenged.
Peterson told trustees shortly before the meeting that he had a court appearance to attend, even though 24 hours earlier he indicated he would attend the meeting.
Prior to the meeting, Trustee Ken Lauer made it publicly known that he would ask Peterson to resign, and the first action of the meeting was a motion by Lauer demanding Peterson give up his office.
The motion failed 2-1. Deputy Mayor David Bielec has been out of town all week and also missed Friday's meeting. With Peterson absent, any motion would need the three votes of all three present trustees to pass.
Trustee Art Ianni voted against the motion, he said, merely on the principle that a man with only a week or two on the job shouldn't be tossed aside, but should be given a chance to improve his performance.
More significantly, Keith Busch, who ran on the Corfu-only party line of the Corfu United Party with Peterson, supported the motion asking Peterson to resign.
When residents challenged Ianni's "support" of Peterson, Lauer jumped to Ianni's defense and said he didn't read Ianni's position as one of support of Peterson, but rather a position based on principle.
Ianni had said he never had a problem with Peterson while Peterson was a trustee, and Lauer defended that statement as well.
"Rosie has come up with many good ideas," Lauer said. "He did many good things, he's just going through a rough time right now."
Ianni is still willing to give Peterson the benefit of the doubt and have a chance to redeem himself.
"I saw a newly elected official kind of push his way through office and it's a shame he did it," Ianni said.
Both Ianni and Busch supported every motion that followed the resignation motion, all of which ran against Peterson's prior actions or statements as mayor.
All three present trustees supported reappointing Sandra Thomas and Denise Beal to the clerk's office.
The mayor had tried to tell the two women on Tuesday, by his own admission, that they wouldn't be reappointed. Witnesses say Peterson fired the clerk/treasurer and assistant.
With the support of the majority of trustees, both Thomas and Beal have been promised jobs for at least the next two years.
It's still unclear if Thomas and Beal will return to work, if they do, trustees promised they will be welcomed back with no penalty and full pay for the time they've missed during the week of turmoil.
If they don't return, Lauer said, the board will be faced with no option but to try and hire new clerk and treasurer staff because village business must still take place, including completing a village budget and applying for a long-anticipated grant to complete a sewer project.
The trustees also voted 3-0 to reappoint Mark Boylan as attorney for the village.
On Monday, Peterson tried to push through Kevin Earl as the new village attorney. The motion to appoint Earl was mishandled and for much of the next several days it was unclear who exactly filled the village attorney position. This afternoon, Earl e-mailed the trustees and said even if the board held a new vote to appoint him, he would decline the position.
The board also passed a motion 3-0 demanding that Peterson have no further contact with village employees. The resolution is probably unenforceable because Peterson is the elected mayor, but if Peterson does contact an employee and the employee files a harassment complaint, the village will not provide legal assistance to Peterson if he is sued.
The village board is scheduled to meet again at 6:30 p.m., Monday.
During the meeting residents passed a petition they intend to send to Governor Andrew Cuomo asking Cuomo to remove Peterson from office.
"What we have to do as community is all stand together," said former Mayor Todd Skeet near the end of the meeting. "Maybe we go door-to-door and maybe we get everyone on this campaign. Like I said, the people of this community and this village put this man in power. The only way this man can be taken out is by the people in this community. Each meeting, it looks like more and more people are coming. That is good. Let's keep it up and we work together to ask this guy to step down."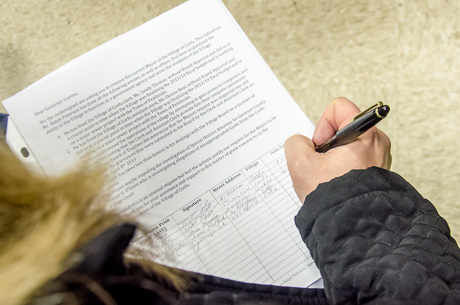 Top photo: Lauer, Ianni and Busch. Bottom, a resident signs a petition asking Gov. Andrew Cuomo to remove Peterson from office.
Previously:
April 14, 2013 - 2:20pm
#7
Whatever good will Mr. Peterson intended to bring to the Office of Mayor has been completely lost. Whether there are irregularities or this is just clumsy management, the bottom line is that Mr. Peterson should resign and save Corfu the embarrassment of having to remove him. It is bad enough to have one investigation involving Corfu.