Corfu mayor gets doctor's note, but it's unclear if he will take leave of absence
Submitted by Howard Owens on August 31, 2013 - 2:19pm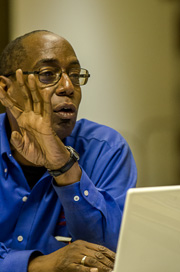 Corfu Mayor Ralph Peterson has a doctor's note excusing him from official duties for the next four months.
It's unclear, however, if Peterson intends to follow his doctor's advice and take a leave of absence.
Peterson's girlfriend reportedly dropped the note off at the village hall on Thursday. There was no letter with the doctor's note indicating what Peterson intended to do.
The note from a Pembroke doctor reads simply, "To Whom it May Concern: Ralph Peterson is a patient in our practice who has been advised to take a medical leave of absence until January 2, 2014."
Trustee Ken Lauer said he's unsure himself if Peterson is taking a leave of absence or just had the note dropped off.
"Our assumption initially was this was him stating he wouldn't be back until January second, but upon reflection I think we need a formal letter stating as much," Lauer said.
Lauer said Sandra Thomas, village clerk, sent a note to village attorney Mark Boylan on Friday asking whether the note should be treated as a notice of a leave of absence, but Boylan has not yet responded.
Peterson's first nine months in office have been tumultuous with numerous controversies. Within the past month, trustees voted unanimously to ask that he resign.
If Peterson didn't resign, the trustees voted, they would seek his ouster through the NYS Supreme Court.
On Monday, after learning that Peterson was hospitalized, reportedly for a stress-related condition, the board agreed to delay petitioning the State Supreme Court until Peterson was in better health.
Lauer said Peterson's doctor's note is just a variable in the process, but as far as he's concerned, the board should continue to pursue the mayor's resignation or seek his removal from office.
August 31, 2013 - 3:27pm
#4
OK - he is either medically incapable of handling the position now, or he is not.
The doctor just said "stay home". I hope he listens.