Corfu man seeks redemption following meth lab sentencing
Submitted by Howard Owens on May 5, 2011 - 1:33pm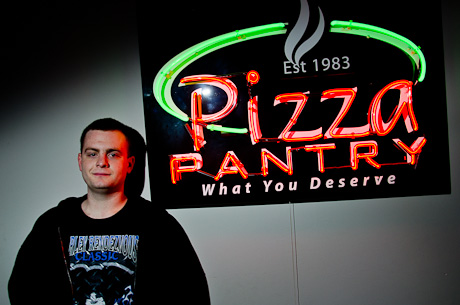 Dustin R. Benham thought for sure last week he was going to get locked up in a federal penitentiary.
The sentencing recommendation for his role in a meth lab operation in Alabama was 12 to 18 months.
Today, he's under house arrest on a six-month term and then will serve three years probation for unlawful possession of chemicals that could be made into a controlled substance. He also must pay more than $4,000 in restitution.
Benham said a few days after his sentencing that an outpouring of support from friends and family and his own statements to the judge about wanting to move forward with his life seemed to have an impact on the judge's decision.
Getting busted on Nov. 12 at the home of Kenneth Mosholder changed his life and set it in a more positive direction, Benham said.
Shortly after that, he returned to a job he once had at the Pizza Pantry in Corfu, successfully completed a drug treatment program and reconciled with his parents, family and friends.
"I'm happy that I was there," Benham said. "I can't say I'm 100 percent happy about what happened, but I was ruining my life. If I hadn't been there, it might not have been until I was 30 or even 50 before I realized I wasn't going anywhere."
Now, Benham wants to go from being a "meth cook," as he put it, to a kitchen cook.
According to Pizza Pantry owner Bev Snyder, Benham has a natural talent in the kitchen, and he's matured suddenly.
"I see a difference from when he was here before," Snyder said. "I'm not sure if it's just that he's older or what he's been through, but you could just see he's more interested in the business and how it runs and cares for how it runs rather than just collecting a paycheck."
Shortly after his arrest, Benham said he sat down and talked with his father about drugs and said he didn't think he had a drug problem, but a problem with priorities -- making drugs too much of a priority.
His father told him he should re-evaluate that position and look at some of the things he had done in the previous couple of years.
"I realized that if I didn't have a problem with drugs, then I was a real asshole, and I thought, I'm not that person," Benham said. "I'm not an asshole. It was the drugs."
As his life moves forward, Benham is hoping people will look past his days of drug involvment. Most importantly, he wants to clear his family's name. He doesn't want the name Benham associated with meth, either for the sake of his parents or if he's ever fortunate enough to have children, for his past to reflect poorly on them.
"I don't want my kids to have a hard life because their father was me," Benham said.
He then added, "Tell people, everybody has a story. No matter how bad it may seem, it doesn't mean they're a bad person. Some people can change."
I am SO PROUD OF YOU DUSTIN! Me and him where in a similar boat with a drug and legal problem's. It was the best past of my life but the worst i learned so much and grew remarkably! I could not have said it better. Everyone treats you like your past but in fact you can change. When you do it is the best feeling in the world. WAY TO GO DUSTIN!!!