Co-founder of Ben & Jerry's says company leaders can stay true to their values in business
Submitted by Howard Owens on September 25, 2013 - 8:53pm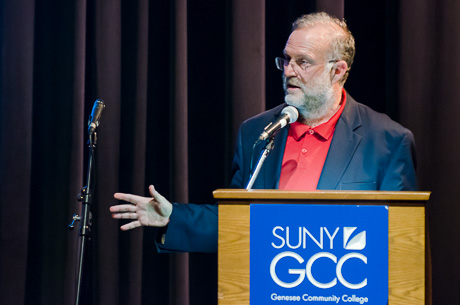 It is possible, Jerry Greenfield told the assembled audience in GCC's Stuart Steiner Theater this afternoon, to run a business that is both socially conscious and profitable.
Ben & Jerry's did it, and it's a culture that remains in place even 12 years after Greenfield and his partner Ben Cohen sold Ben & Jerry's to Unilever for $326 million.
From early on in the company's history, Greenfield said, he and Cohen shared a vision that the company would buy raw materials locally, invest in the communities where Ben & Jerry's operated and donate to charitable causes.
They also did things like find suppliers such as a bakery in New York that employs disadvantaged workers (the bakery makes brownies for Chocolate Fudge Brownie ice cream).
"The way we approached it was to think how can we find ways to bring social and environmental concerns right into the day-to-day business activities so it's not central to what we do but just a part of what we do," Greenfield said
Greenfield's appearance was part of Wolcott J. Humphrey III Symposium on Leadership and Community Life.
Several times during his talk, Greenfield referenced "community" -- like where Ben & Jerry's buys product or where Ben & Jerry's donates money or how it supports its employees. He encouraged the audience to support local businesses and businesses that share the customer's values.
"I think everything is essentially local," Greenfield said after his talk. "For Ben & Jerry's, the farmers that we buy milk and cream from are neighbors. We want to support our neighbors."