Burglary and escape convictions send Batavia man to prison
Submitted by Howard Owens on September 26, 2012 - 3:39pm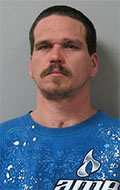 He was able to get himself into a garage and later help another man escape jail, and now he's going to be locked away for five to seven years.
Paul J. Doctor, who entered guilty pleas Aug. 2 to attempted burglary, 2nd, and escape, 1st, will serve five years on the first charge and three-and-a-half to seven years on the second.
He will serve the sentences concurrently, Judge Robert C. Noonan ruled this afternoon.
Doctor, 34, and a resident of 20 Maple St., Batavia, at the time of his arrest, was accused in February of breaking into a garage and residence on Jackson Street and stealing appliances.
By May, he was a wanted man, accused of violating the terms of his release under supervision.
Besides pleading guilty to the burglary charge, Doctor also admitted that he helped an inmate escape from the Genesee County Jail in July.
Charges are still pending against 22-year-old John Anthony Cabrera, who is accused of a handful of local church burglaries over the summer.
Cabrera allegedly climbed through the jail building, after getting a boost from Doctor into the ceiling area, and into the basement. Cabrera reportedly managed to get out of the jail area -- constituting escape -- but never made it out of the building at 14 Main St.
Once out of jail in five to seven years, Doctor will be on parole for five years.