Brian Moran honored for 25 successful seasons as Le Roy's head coach
Submitted by Howard Owens on September 5, 2013 - 9:15pm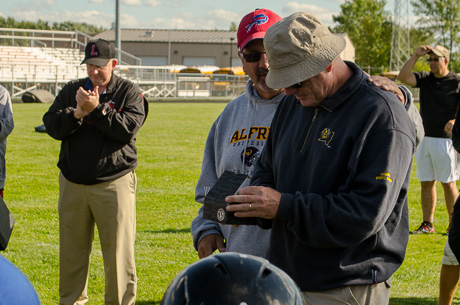 Le Roy football is built around toughness, but even the man who has toughened up a lot of boys for 25 years had trouble fighting back a tear or two after being honored by his fellow coaches and team for all those years of dedication.
Very successful years.
Head Coach Brian Moran is closing in on 200 wins and would love to see his team snag its 14th sectional title this season under his guidance.
"It's like anything else, it's not my job, it's my life," Moran said after being presented with a medallion commemorating his 25th anniversary. "I've been blessed. I've been blessed to be here. I've been blessed to part of this community, and obviously, they take their football here very seriously. They've been playing it since 1897, so I'm just happy to be a part of it. Every day, it's really just enjoyable for me."
Tomorrow, the Oatkan Knights get a chance to prove what they're made of when they face Hornell, the team that vanquished Le Roy in last season's Section V title game.
With several key players from that 8-2 team returning this season, the Knights promise to be a hard team to beat. Tomorrow, Moran said, will tell us a lot.
"Tomorrow is going to be a great indicator of where we are," Moran said. "Obviously, we're playing a great football team with a great tradition. So tomorrow, let's find out where we are. I think we're prepared and the kids have worked hard."
Game time is 7:30 p.m., and if you love the whole "Friday Night Lights" aura, Hartwood Park will be the place to be.