Bath defeats Le Roy in hard-fought Section V playoff game
Submitted by Howard Owens on February 23, 2013 - 11:22am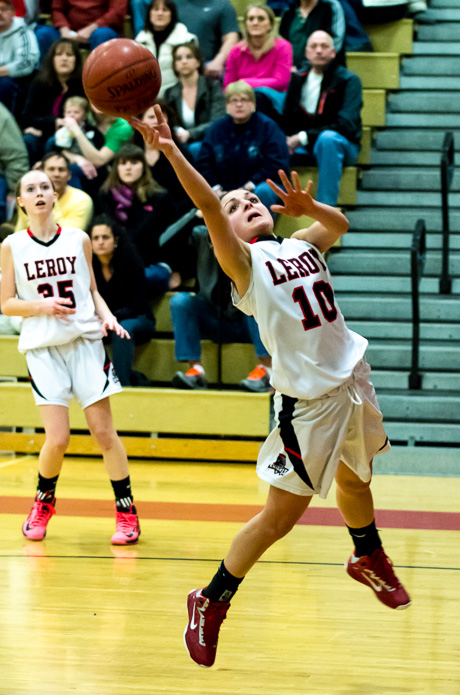 With a key player injured in the first minute of the game, Le Roy's girls battled Bath-Haverling hard, letting the game slip away for only a portion of the third and fourth quarter, but still came up short in their Section V playoff match, 47-42.
Montana Vescovi, who led the team this season in points, rebounds and steals, suffered an ankle injury early on, but captains Kari Piazza and Alicia Conte picked up the slack and kept the Oatkan Knights in the game.
"She's a definately a key player, but we were right there," Head Coach Brian Herdlein "There's no excuses. They played well. We played as hard as we could. It was a good game."
Le Roy and Bath switched back and fourth on the lead until the midway through the third quarter, when Bath built as much as a 12-point lead at one point.
Herdlein said his girls were able to take advantage of their mismatches with Bath when Bath ran a one-on-one defense, but when Bath switched to a 3-2, Le Roy had a hard time making the adjustment.
"Our girls were taking shots they weren't comfortable with," Herdlein said.
With about three minutes left, Le Roy started going inside again, tighented up their defense and pulled within two points with a minute to play.
Bath was largely able to control the ball, however, in the final minute and run down the clock, adding points on foul shots.
"They (Bath) rebonded well and played good defense," Herdlein said. "That's the minor difference in the game right there."
Photos: Top, Piazza scores on a lay up in the third quarter; Brooke Bower scrambles for the ball in the 4th quarter; Piazza reacts to getting elbowed in her eye during a rebound attempt in the final seconds of the game.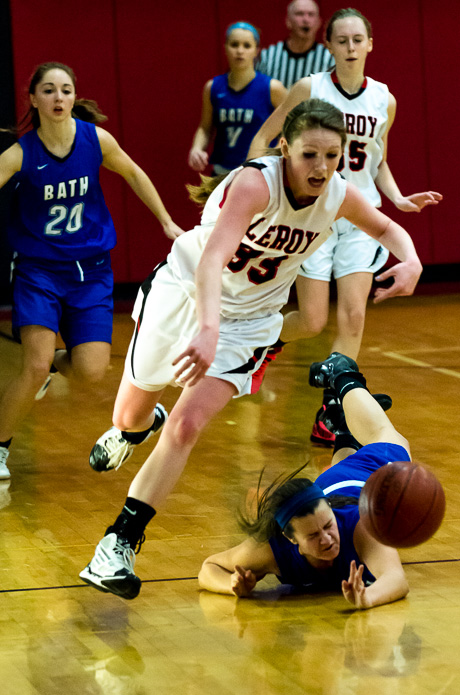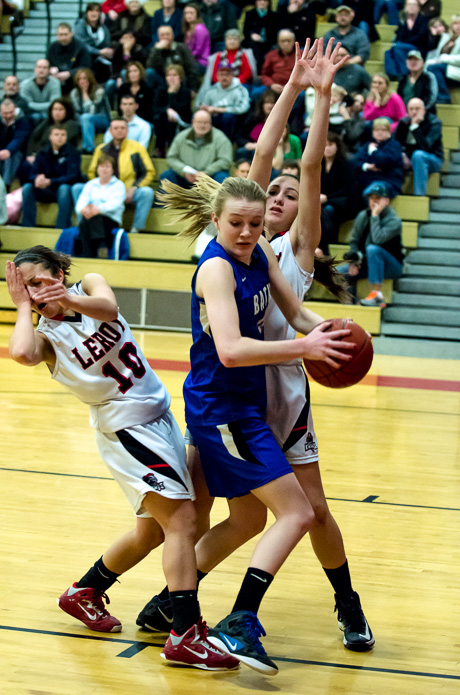 To purchase prints, click here or the link in the upper right of the slide show below.
In other basketball action:
Elba defeated Hammondsport 79 to 30 and Notre Dame downed Prattsburgh 68-54. The two rivals will meet in a Section V semi-final in Dansville on Tuesday.
Batavia top Livonia, 48-41.
Bergen plays Mynderse at 4 p.m. in Canandaigua.
Notre Dame boys beat Williamson 86-63.
Alexander lost to York, 63-51.
Oakfield-Alabama lost to Clyde-Savannah, 85-32.
Batavia takes on Waterloo at 3 p.m.
Hornell and Le Roy meet at 7 p.m.