Batavia tries to come up big against Hornell, but Raiders still notch 44th straight win
Submitted by Howard Owens on September 29, 2012 - 12:50pm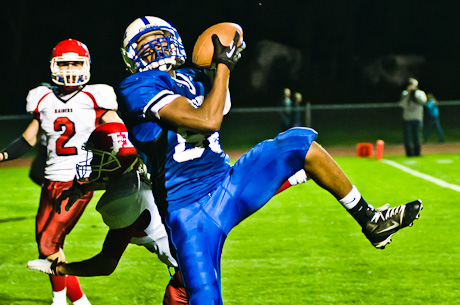 When Batavia scheduled Hornell for its homecoming game some people thought it was crazy, Head Coach Brennan Briggs admitted after last night's 30-14 loss to the Raiders.
Hornell came into the game with a 43-game winning streak and is arguably the best team in the state of New York in any class.
But at the half, with the score tied 14-14, and the Blue Devils' defense coming up big on some key plays, it didn't look so crazy.
The theme for the team all week in preparing for the game, Briggs said, was "great moments come from great opportunities."
The second half didn't go as well for Batavia, but Briggs came out of the game believing the Blue Devils, in his first season as head coach, are ready to play with anybody.
"These kids showed they can come out and play with the best and compete with them," Briggs said. "Yes, obviously, we got beat by 16. We're not super excited about getting beat by 16, but we know we can play with them. We really do."
Justin Washington and Brett Scheuerlein had big games for the Blue Devils.
Washington snagged an interception in the first quarter and returned it 30 yards for a TD. He also nabbed a 20-yard reception from Scheuerlein in the second quarter for a touchdown (top photo).
Scheuerlein was 7 for 12 passing for 93 yards.
The Raiders played a tight, disciplined defense all night however and the Blue Devils were forced to punt four times in the second half.
In the third quarter, Brendan Buisch hit Richie Harkenrider on a 40-yard TD play. A Batavia defender got a hand on the ball as Buisch hauled it in, but when he couldn't strip it, there was nobody between Harkenrider and the end zone.
With the lead, the Raiders turned their offense over to Zach Bacon, their big, strong full back, who wasn't unstoppable (defenders a couple of times took him down for losses), but could also shake off tackles (or jump over) and get big gains.
In the fourth quarter, Bacon (#40 in photos) scored on a 50-yard run, just plowing through blue jersies for the first 20 yards like a combine in a cornfield.
"The kid's a stud," Briggs said. "You can't really coach against that. You do what you can against him, but he's one heck of a football player."
In preparing the Blue Devils for Hornell, Briggs reminded them that 31 years ago, Batavia (Correction: It was Notre Dame) snapped Cal-Mum's 49-game winning streak on Woodward Field.
"I told them, 'this field's made for breaking winning streaks,' " Briggs said.
While the final score was disappointing, Briggs said the game will give Batavia great confidence going into the final two games of the season and into, hopefully, sectionals.
"We know that if we continue with the same intensity, the same enthusiasm, the same execution, we can have a great ending to our season," Briggs said.
In other football action on Friday:
Le Roy's winning streak was snapped by Perry, 44-36. Perry's QB Cory Dillon hit Jake Kiehle on a fourth-down, less than two minutes to play, 11-yard TD pass to put Perry in the lead. Dillon passed for 299 yards and 4 TDs. He was 25 of 40 passing. Perry, now 4-1, last beat Le Roy in 1991. Peter Privitera carried the ball 18 times for 149 yards and two touchdowns. Le Roy is now 4-1.
Notre Dame is 4-1 after beating Pembroke 35-7. Andrew Mullen carried the ball 14 times for 180 yards and one TD. Jason Hart also scored on the ground and had 13 attempts for 14 yards. (Nick Taylor apparently did not play Friday). Tim McCulley was 4-7 passing for 105 yards and three touchdowns. Hart had one TD reception of 12 yards. Josh Johnson's only reception was for a 46-yard TD, and Jared Thornton's lone catch was for a 29-yard score. John Lapple notched Notre Dame's only sack. He had three tackles. Anthony Paladino had 5.5 tackles. Peter Thomas had 10.5 tackles for Pembroke.
This afternoon, Oakfield-Alabama is at Elba/Byron Bergen and Alexander hosts Holley. The other game of significance is Attica at Livonia. Both Elba/BB and Attica are undefeated. The Genesee Region rivals meet next week.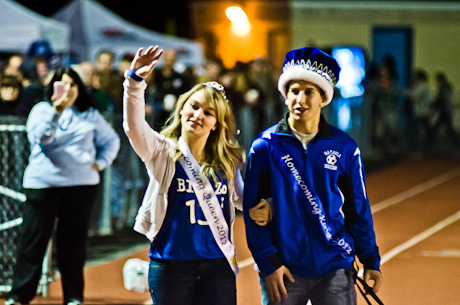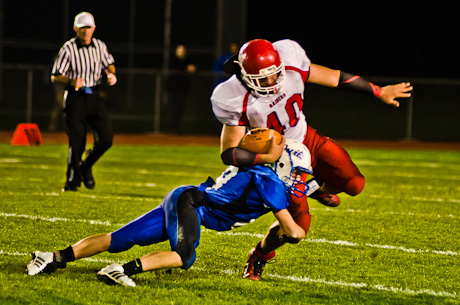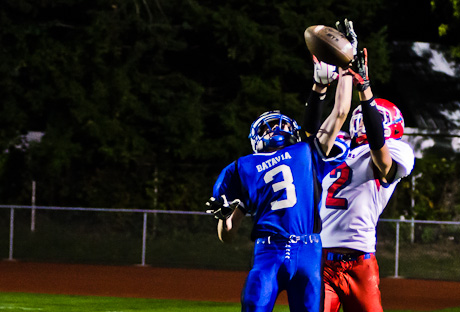 If you're unable to view the slide show below, click here. To purchase prints of these photos, click here.