Batavia sixth-graders win hoops tournament in Rochester
Submitted by Howard Owens on December 25, 2013 - 5:02pm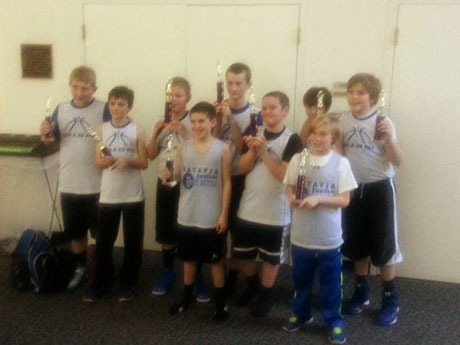 The sixth-grade Batavia Blue Devils won the Community Youth Basketball Tournament in Rochester this past weekend.
Game summaries by Bryan Falitico:
Game 1: Starting off against the hometown team CYP in our first
game we came out sleepwalking. Strong efforts from our bigs inside on both
ends of the court we were able to fight our way back from being down 11
points. Alex Rood had six points, Andy Clark three, and Jake Humes four, with all
three having monster rebounding games we came up short in the end, losing
33-30.

Game 2 -- vs. Brighton: Building off the fire we started to play with in
the second half of the first game, we came out strong and pounded the ball
inside. Jake Humes led with 10 points, and Andy Clark had eight. The real
key to our win vs. Brighton was behind the leadership of our point guards,
who not only chipped in point wise, but also great ball protection and
finding the open man in transition. Max Rapone had four points, Bryce Reigle had six
and Luke Grammatico had four. Final score BHS 43, Brighton 34.

Game 3 -- HFL: Day 2 we were without one of our bigs inside so in order for
us to be successful other key guys needed to step up in the absence. Andy
Clark had eight points, and the White brothers, Cam and Caeden, came to play.
Cam had six points and Caeden had five, including a game-changing basket drive
that resulted in a (point) and one opportunity. He sealed the deal with the free throw.
Matt Beach and Alex Rood both came up big on the boards in Jake's absence to
help us get the win 35-30.

Game 4 -- vs. Eastside: All around contributions helped us seal the win. Big
game again from Caeden White with 11 points. Cam pitched in five points of
his own, and again Andy Clark, Alex Rood, and Matt Beach controlled the
boards, helping set up our guards to push the ball for some easy baskets. Luke
Grammatico had two points, Josh Weis had four, Bryce Reigle and Max Rapone
both had a number of great passes inside that set up our bigs for easy
baskets. Final score 37-25, tournament champions.