Batavia Kiwanis ready to serve up 54th annual Pancake Days
Submitted by Howard Owens on October 24, 2012 - 3:29pm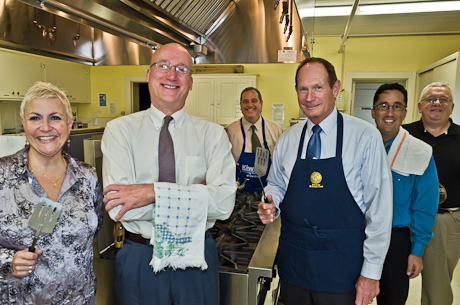 This Saturday, you can get your flapjacks flipped by Sheriff Gary Maha and served table side by District Attorney Lawrence Friedman.
Saturday is the annual Pancake Days sponsored by the Batavia Kiwanis Club. Maha and Friedman are both Kiwanis members and they will be joined by a couple dozen more Kiwanis members who will ensure you get a hot, tasty breakfast for the low price of $5 (children 10 and under, and seniors, $3).
The breakfast runs from 7 a.m. to 2 p.m. at the First Presbyterian Church, Main and Liberty streets, in Batavia.
Arrive early. There's always a big turn out.
To purchase tickets or for more information, contact Anita at 585-813-5371, or ask a local Kiwanian.
Pictured are Anita Strollo, left, Friedman, Club President Ed Minardo, Maha, Immediate Past President David Chua and Joe Forsyth.
Below, an article about the breakfast from Anita Strollo:
It's been a long year sampling pancakes all over Western New York to insure that this year's Kiwanis Club of Batavia's 54th Annual Pancake Day lives up to the reputation it had in years past.
Last year our suppliers got changed unexpectedly and we thought we were getting comparable product only to find out that the pancake batter and sausages were less than satisfying. It was too late at that point and we counted on our understanding community and the fact that so many other treats were available at the annual event which raises funds for area children's projects.
This year Serena, Joe and I sampled a lot of pancakes! I am a notorious pancake hater so we were looking for a pancake that even I liked. When Sheriff Maha (our chief pancake cook and longtime Kiwanian) offered that he and his wife recommended a local stop for pancakes, we ventured there. They had a similar situation with pancake mixes years ago and had to go on the same type of quest!
Serena and I sampled the pancakes there and they were fabulous. After some research by us and much help from Batavia Restaurant Supply to locate a supplier on the East Coast, we are now ready to serve up the tastiest pancakes we've had in years. Batavia Restaurant Supply is going to be stocking the mix from now on!
Joel Chasteck from the Genesee County Nursing Home located the brand of sausage that we always used, and after we add our "secret ingredient" our customers will be very pleased.
When it looked like the bad apple crop and the closing of our cider supplier's mill was going to preclude us from serving fresh apple cider for the first time ever, Roanoke Apple Farms quickly jumped into action. They gave us a very fair deal on cider so we can serve and sell it again at this year's breakfast.
We will also be offering a Gluten-Free option. Patricia Hawley from Fountain of Youth Organics in Brockport will be donating some pancake mix as well as lending her gluten-free designated griddle and cooking implements.
Pancake Days is so named because it used to be a two-day event. Within the last few years, it has become a one day event that still serves the same amount of pancakes and extras as the two-day fundraiser did.
The funds raised allows Batavia Kiwanis to sponsor free community events like the Thanksgiving Day Skate, Easter Egg Hunt, AMBA Blood Screening, Kiwanis Night at the Muckdogs and so many other events.
The all-you-can-eat breakfast is fully served and includes a beverage choice of cider, coffee, milk (chocolate or white compliments of Upstate Milk Cooperative) orange juice or tea.
Pancake Days will be this Saturday, Oct. 27 at the First Presbyterian Church Service Building on the corner of Liberty and Main streets in Batavia from 7 a.m. – 2pm. Cost is $5 for adullts, $3 for seniors 62 and over and children 10 and under.
Any one child in costume accompanied by one adult will also get in free.
There will be entertainment as usual and there are tickets available at the door or from any Kiwanian.