Batavia Boxing History: Mike Sallee notched at least 38 KOs in amateur career
Submitted by Howard Owens on October 14, 2013 - 2:59pm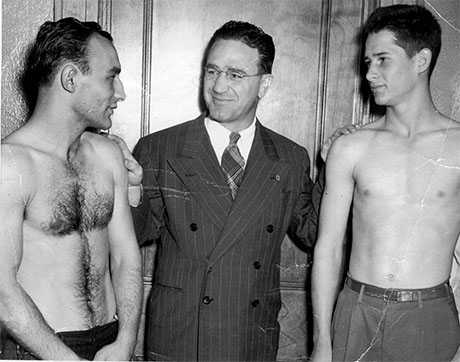 They called him the Bellevue Bomber because he had "one of the most devastating lefts" seen in Schenectady in a long time, but alas, in a 1947 bout billed as the "fight of the year" in Schenectady, Mike Sallee fell to Tony Barone in a five-round decision.
"Hard-hitting Barone, who was the aggressor throughout, hit Sallee almost at will and came close to ending the scrap in the first round," according to a newspaper account of the match.
Sallee -- who had notched 38 KOs as an amateur prior to meeting Barone -- began his boxing career with the Batavia Boxing Club as Micheal Saquella.
The boxer's son, Alan, came across our series on local boxers and sent us information about Sallee.
Alan doesn't know why his father fought under the name Sallee (pictured left above with two unidentified men), but he had a pretty good record. As an amateur going into the Barone fight, he had been in the ring 55 times with 44 wins. Beyond that, there isn't much available his fighting history that we can find. He's listed as club member #35 in Butch Zito's write-up on the Batavia Boxing Club, but there's no further information on him in the book.
He appears to have transferred Schtady as some point in his boxing career and hailed as a local boxer in the Schenectady papers of the period.
The pre-fight write-ups on Sallee are glowing in their appraisal of his ring prowess, but it was also clear he was in for a tough scrap with Barone.
"With both lads packing dynamite in either fist and boasting fine records, the betting is quoted as even money," wrote an unidentified sports reporter. "Plenty of dough is expected to change hands no matter who wins as both welterweights have a lot of followers."
If you come across Batavia boxing history in your family, send clips and pictures to howard@thebatavian.com.