Batavia battles back but comes up short against Honeoye Falls-Lima
Submitted by Howard Owens on September 14, 2013 - 9:25am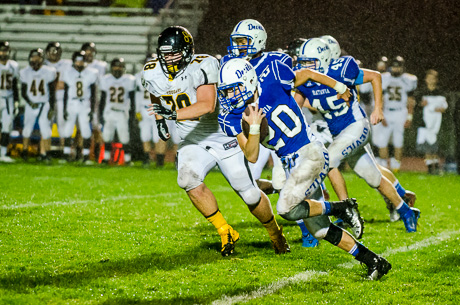 A pick six with a 70-yard return by Andrew Budlong in the fourth quarter felt like a game changer.
The Batavia Blue Devils cut in half their 14-point deficit against the Cougers of Honeoye Falls-Lima and the energy level on the sidelines and in the stands kicked up a notch.
Even Head Coach Brandon Briggs was thinking "win" as the refs signaled touchdown.
"We always talk about X plays, the big plays, and you've got to win the big play battle," Briggs said. "When he was running that back, first I've got to look to make sure we don't clip anybody, and when he was crossing that goal line I was saying in my mind, 'we're going to win this football game.' Momentum swings."
Alas, with two minutes left in the came the momentum dissipated as quickly as it had swung to Batavia.
The Blue Devils were knocking on the door for another six when sophomore QB Greg Mruczek flicked a pass into the end zone that only found white jerseys.
From there, HFL was able to run out the clock. Final score, HFL 27, Batavia 20.
At no point during the four quarters of football did Batavia have a lead.
The Cougers scored in the first quarter on a seven-yard run by Ryan Olivo. At the top of the second quarter, HFL made it 13-0 when Cougers QB Dan Hart hit Jovan Alcorn on a 24-yard TD pass.
Brandon Stevenson finally put Batavia on the board with a 13-yard run, but the Blue Devils went into the locker room down 20-6 at the half.
"We told them when we were down a couple of scores last year at half time against Albion, we came back to beat them," Briggs said.
And the Blue Devils fought back, even after the Cougers opened the third quarter with another score, Batavia never said quit.
Mruczek answered HFL with a 38-yard strike to Stevenson to make Budlong's eventual pick six meaningful.
The defense tightened up and the cause seemed far from hopeless.
"Our theme is to keep chopping," Briggs said. "We're a small team. We're a blue collar team. We've got to come out no matter what and keep chopping away."
The game, like any early season game for a good, young team, is a learning experience, Briggs said.
"Monroe County football is a different horse," Briggs said. "I think our guys found that out tonight. I don't think they're going to pack it in at all. I think we're going to come in with our lunch boxes on Monday and we're going to do a good job."
UPDATE: Stats from the game: Stevenson, 18 carries for 105 yards and a TD, and two catches for 40 yards and one TD. Mruczek was 4-10 for 90 yards, a TD and three interceptions. Tom Garlock had 4.5 tackles and one sack. Budlong has a 77 interception return for a TD.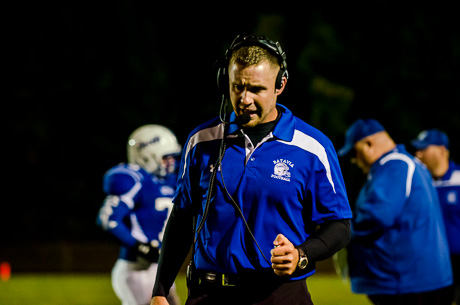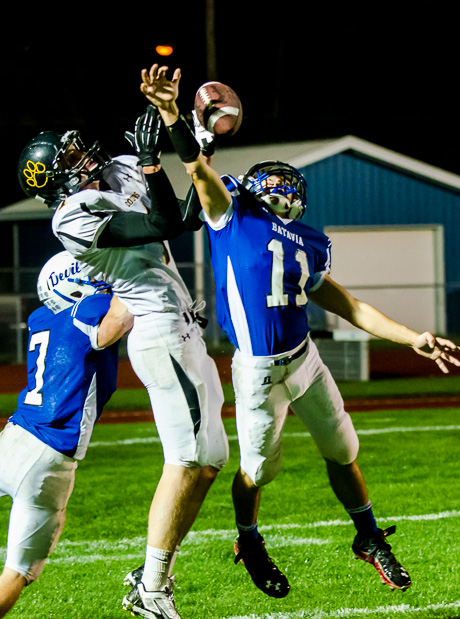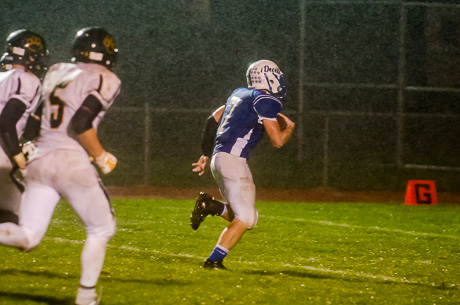 To purchase prints of photos, click here.
In other Friday night football action:
Alexander scored 64 points against hapless CG Finney for a 64-0 victory. Alexander had 509 yards of total offense, including 452 yards rushing. Dylan Scharlau had 22 carries for 239 yards and three TDs. Scharlau also blocked a punt and recovered the ball in the end zone for a touchdown. Tristan Aldinger filled in at fullback and had three carries for 118 yards and two touchdowns. Will Burke also played fullback and gained 58 yards on six carries and scored once plus three two-point conversion runs. On defense, Burke had 10 tackles. QB Nelson Burke was 2-5 passing for 57 yards and one TD with no interceptions. Zach Laird scored on a 41-yard reception. Cody Trzecieski has five tackles and two interceptions. John George had six tackles and he picked off a screen pass that he returned 28 yards to set up another Alexander score. Alexander is now 2-0 on the season and plays Notre Dame next Saturday.
Notre Dame moved to 2-0 with a 35-21 win over Oakfield-Alabama (0-2). Andrew Mullen carried the ball 18 times for 62 yards and one TD. QB Tim McCulley was 7-18 for 116 yards and four touchdowns. He also carried the ball 13 times for 99 yards. McCulley was 5-5 in PATs. Charlie Hebert had three receptions for 36 yards and one TD. Josh Johnson had two TD receptions and gained 53 yards. Joe Zickl also caught a 22-yard pass for a score. Hebert and Zickl led the defense with 8.5 tackles. Mullen had 7.5 tackles, as did McCulley. Tyler Stroud, 8. Dylan Cory recorded a sack. For the Hornets, QB Allen Chatt was 7-16 for 88 yards and one TD. Chris Nanni carried the ball 31 times for 167 yards and one TD. Nanni also had three receptions for 56 yards and a TD. Chase Manzella had 15 carries for 95 yards and a TD. Dominic D'Alba caught two pases for 15 yards. Manzella led the defense with six tackles and a sack. Jon Harris had four tackles as did D'Alba.
Le Roy moved to 2-0 with a 47-8 win over Bishop Kearney. We did not receive any stats for this game.
The only local game today is at 1:30 when Elba/Byron-Bergen (0-1) hosts Pembroke (1-0).