Assistant county manager announces retirement after 40 years of public service
Submitted by Howard Owens on May 8, 2012 - 12:29pm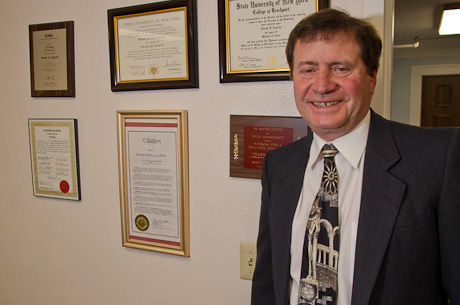 Press release:
Assistant County Manager Frank Ciaccia announced he is retiring after 20 years with Genesee County government.
His retirement is effective May 30.
He stated his decision to retire was motivated by his desire to escape these Western New York winters and spend more time in warmer climates to enjoy the outdoor activities and sports he says are too hard to squeeze into three months up here with his present schedule.
He explained, "I am retiring more from the winters than I am from the job."
He also said this will give him more time to visit his brother and his nieces and nephews in Tennessee.
Mr. Ciaccia said while his current position is challenging, he wants to pursue new challenges. One of those challenges is he has accepted an appointment to teach a graduate course in Public Policy and Administration at Buffalo State starting in the Fall semester. He said he is "pretty excited" about starting a new career of teaching at the college level.
Mr. Ciaccia, a Bergen resident, is Genesee County's first and only assistant county manager.
He came to Genesee County in 1992 after 15 years in Monroe County government. With his election to the Rochester School Board in 1972, he is completing a 40-year career in public service.
In addition to his responsibilities as assistant county manager, Mr. Ciaccia is also the county's STOP-DWI coordinator, director of the county's Facilities Management Department, the county's ADA coordinator, fair housing officer and corporate compliance officer.
County Manager Jay Gsell said he will begin the process to fill Mr. Ciaccia's position.
Frank has done a terrific job. He will certainly be missed.