Annual gala and auction will raise funds to assist child victims of sexual and physical abuse
Submitted by Howard Owens on September 8, 2012 - 10:55am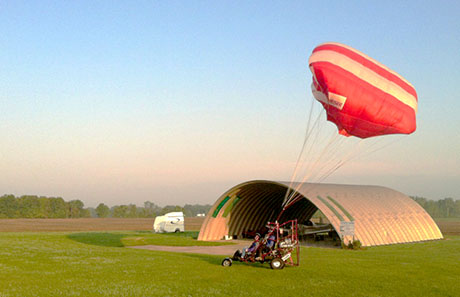 This morning a couple members of the Batavia Kiwanis Club went to Paul White's place to get a look, and take a ride, on his paraglider.
White is donating a ride on the paraglider to be auctioned off at the club's Bidding on a Brighter Future Auction & Gala at Batavia Downs on Sept. 22.
The event is the club's big annual fundraiser to benefit the Child Advocacy Center, which needs to move into a new home that it will own.
Last year, the event raised $30,000 for CAC. Kiwanis members have set a goal of $150,000.
The center has assisted more than 1,400 children who were victims of physical and sexual abuse over the past 13 years. CAC provides a safe and comforting environment for forensic interviews, medical examinations and advocacy for children who are victimized in Genesee, Livingston, Orleans and Wyoming counties.
Besides the paraglider ride, this year gala guests will be able to bid on a fully stocked freezer, sea cruises, cigars and accessories, fun in South Carolina -- a Hilton Head stay and a Myrtle Beach vacation, a Batavia Police Department "CSI Experience," a private pistol lesson for two with a sharpshooter from Batavia PD, fresh baked pies, children's scooters, a stained glass work, couch, chairs, sink and vanity, double oven, jewelry and lots more.
Tickets are $40 per person or $75 for a couple. Sponsorship levels range in price from $50 to $5,000. Sponsors must sign up by Sept. 12.
The club is also still accepting donations.
All donations to the foundation are tax deductible.
For more information, contact Anita at 813-5371 or Grace at 344-8576.
Below: Kiwanis member Peter Guppenberger prepares for a ride with Paul White. Photos provided by Grace Flannery.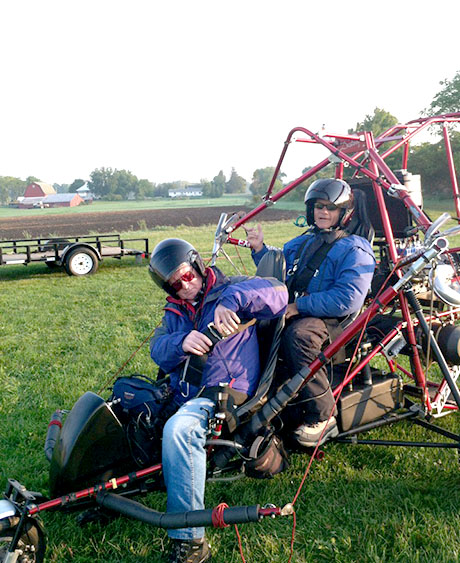 September 8, 2012 - 12:44pm
#2
Thank you Howard. It will be a great time!
September 8, 2012 - 10:05pm
#3
I would love to know how much it would cost just to ride? I see the paraglider out a lot and even though I hate to fly, it looks fun. Yes, it is ironic that I hate to fly and I am in the USAF. Like Howard I am ground pounder SP.