Alexander muscles way to opening-game victory over Elba/Byron-Bergen
Submitted by Howard Owens on September 8, 2013 - 11:48am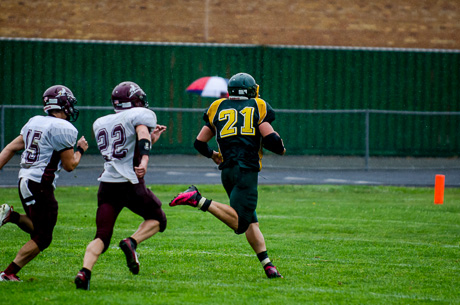 Dylan Scharlau heads toward the end zone in the fourth quarter.
One year makes a big difference in high school football.
To start the 2012 season, Elba/Byron-Bergen had the size and experience over Alexander. The final score that opening game was 40-13.
The way Lancers Head Coach Michael Cintorino sees it, the Alexander players didn't forget that smackdown.
Yesterday in Alexander, the tables were turned and the Trojans came out on top 23-6 victory after dominating a rain-drenched second.
"I think the key to the game is Alexander returned an awful lot of guys who are very well coached," Cintorino said. "Their guys came ready to play. Not that we didn't, but they had a little fire in them from what happened to them last year against us. I think that stayed with those young guys and they put their time in during the off season."
The Lancers were powered last season by the legs of Zach DuBois and the arm of Zac Gillard. Both players graduated.
All but three of Alexander's 19 varsity players hit the weight room hard during the off season, said head coach Tim Sawyer. This year, the Trojans may lack the roster size of some other teams, but they can put some big guys on the field.
Senior running back Dylan Scharlau is 6' and 195 lbs. Quinn Furlong, at TE and LB, is an inch shorter, but the same weight. Alton Rupp and Will Burke check in on offense and defense at 190 and 195 lbs. On the offensive and defensive lines are anchored by Kelsey Patten (225 lbs.), Jonathon George (230 lbs.), Damien Hargraves (200 lbs.) and Alex Jewett (245 lbs.).
With Nelson Burke at QB and Zach Laird at wide out, the Trojans can also run and catch.
"Elba is a physical team," Sawyer said. "But we have some pretty good size this year combined with strength. I thought it was a good, even match-up."
The key to the game may have been the start of the second half, which didn't result in a score for Alexander (penalties killed their drive), but it did help turn the tide.
Up by three after Scharlau's 30-yard field goal gave Alexander a 9-6 lead to end the second quarter; the Trojans had the first possession of the third.
"This doesn't show on the scoreboard but I think this is huge," Sawyer said. "To start the third quarter, we're going into a strong wind into a driving rain and possessed the ball for seven minutes. We didn't get any points, but it chewed up their offensive advantage of the wind and all."
The rain and the wind stayed steady throughout the fourth quarter, when the Lancers offense was facing the western end zone. With the wind at their back, the Trojans were able to engineer two touchdown drives.
Burke hit Laird for a 17-yard pass for a TD and Scharlau pushed the pile forward on a goal line TD run, followed by a two-point conversion pass from Burke.
Elba/BB's lone score came on a pass from Garrett Chapell to Kyle Dougherty, giving the Lancer's a quick 6-0 lead.
Last season the 2-6 Trojans had a tendency to get down early and then find it difficult to battle back, so Sawyer as much pleased with the way his team won as he is with a 1-0 start to the season.
"They boys believed in themselves and kept battling," Sawyer said. "To be down early and finish the game 23-6, that's a big step for our football program."
Both coaches said they have work to do with their teams.
For the Lancers, there's no one glaring issue, Cintorino said. There's a lot of little things, but mainly the mental errors need to be addressed.
Two fumbles in the second half were costly for the Elba/BB.
"I have confidence in this group and I think we can work on those kinks, coach them up, and get them were they need to be," Cintorino said.
It feels good, Sawyer said, to go into the next week trying to improve the team coming off a win.
"We made some mistakes," Sawyer said. "We have some things to work on. It's nice to get the win, but when I got into the team room, it's going to be like, 'Hey, we've got to shore some things up here.' "
On the game Scharlau carried the ball 26 times for 157 yards and two TDs, plus the 30-yard field goal. Burke was six for 11 for 178 yards and one TD pass. Burke also gave up an interception. He ran the ball four times for 29 yards. Laird caught the ball three times for 44 yards and a TD. He had six carries for 36 yards. On defense, Patten had two sacks and four tackles. Laird had a sack, four and a half tackles and a forced fumble.
For Elba, Brandon Naylor gained 78 yards on 17 carries. Chapell was 4-13 for 40 yards and one TD. Austin Yockel caught two passes for 25 yards and Dougherty's one catch was the nine-yard TD reception in the first quarter. On defense, Naylor had 16 tackles and one forced fumble. Andy Underhill had 13 tackles and a forced fumble. Austin Hynes Fisher had six tackles, a forced fumble and a fumble recovery. Dougherty had four tackles and an interception.
Other football action:
Pembroke beat Charles Finney 41-0. The Dragons gained 300 yards on the ground. Dakota Swimline had 14 carries for 150 yards and three TDs. Cal Neurhor had eight tackles, a forced fumble and two fumble recoveries.
Batavia beat Edison Technical 22-0 taking command of the game in the first quarter, scoring 16 points. Nick Canzoneri carried the ball 16 times for 81 yards and two TDs. Brandon Stevenson gained 215 all-purpose yards. Dominick Mogazero and Trevor Rittstersback each had 12 tackles.
Notre Dame crushed Holley 52-0. Tim McCulley came up big throwing for 229 yards and four TDs. He was seven for 10 passing. McCulley ran the ball eight times for 92 yards and one TD. Andrew Mullen taking over as lead man out of the backfield gained 151 yards and scored three times. The Irish had a total of 270 yards on the ground. He had one catch for 49 yards. Notre Dame scored 39 first-half points and notched one TD on Mullen runs in the third and fourth quarters. Cam Chamberlain gained 25 yards on eight carries. Josh Johnson had two TD receptions and gained 83 yards. Luca Zambito caught the ball twice for 47 yards and scored once. Chamberlain had eight tackles. Joe Zickl had five and a half.
Oakfield-Alabama lost to Attica 45-6. Chris Nanni carried the ball 21 times, gained 72 yards and scored once. Chase Manzella notched 17 tackles. Attica, part of the Genesee Region League, returns with workhorse running back Matt Perry, now a senior, who ran for 228 yards and two TDs on 28 carries.
Football next Friday and Saturday:
Finney is at Alexander, Friday, 7 p.m.
Notre Dame at Oakfield-Alabama, Friday, 7 p.m.
Le Roy at Bishop Kearney, Friday, 7:30 p.m.
HF-L at Batavia, Friday, 7:30 p.m. (we'll cover this game)
Pembroke at Elba/BB, Saturday, 1:30 p.m.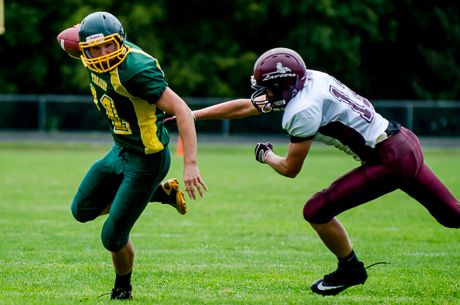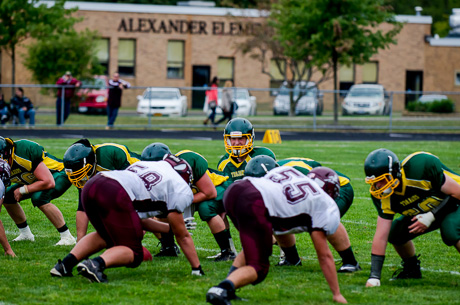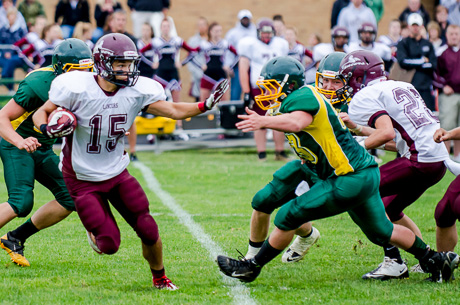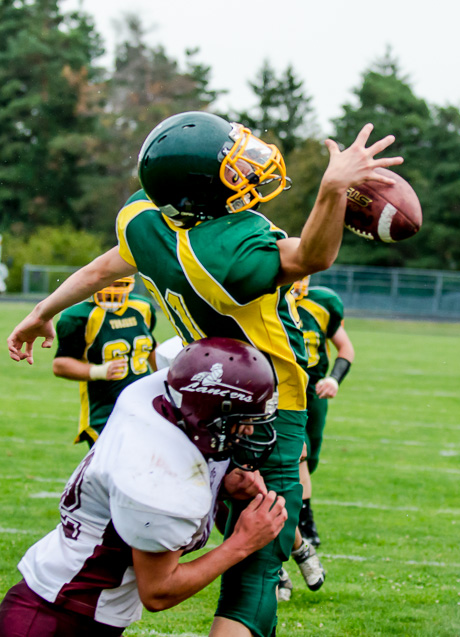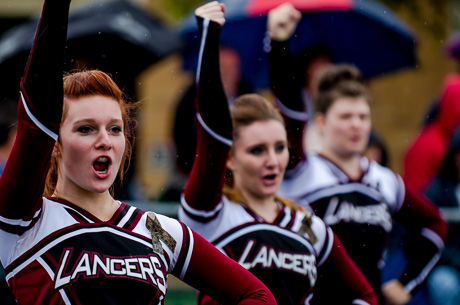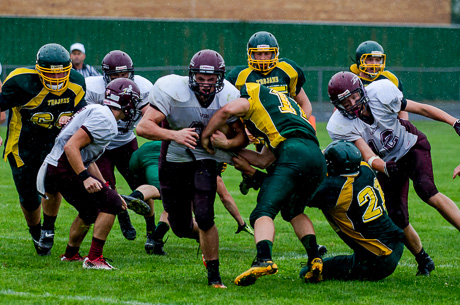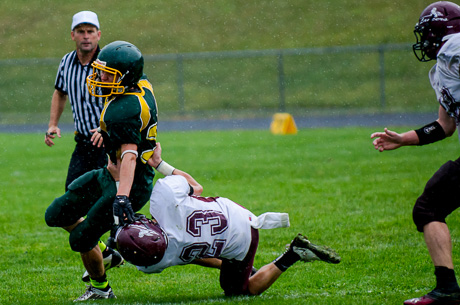 To purchase prints of photos, click here.