Accident reported on Route 20 just west of Perry Road, Pavilion
Submitted by Howard Owens on January 15, 2012 - 9:19pm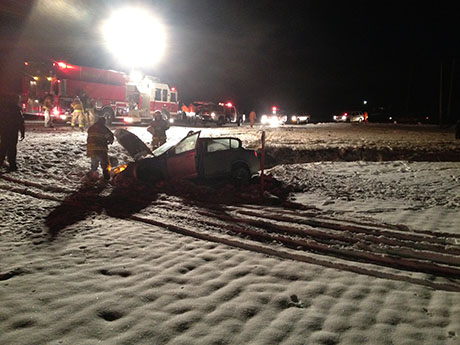 A two-car accident, with one car rolling over, has been reported on Route 20 just west of Perry Road, Pavilion.
Pavilion Fire dispatched.
Law enforcement on scene requested that medics expediate their response. (Different call)
A chief on scene requests the status of Mercy Flight. Mercy Flight 2 is returning to Batavia from Buffalo and can be routed to the accident if necessary.
Patient is alert and conscious, but extrication will be required.
UPDATE 8:24 p.m.: One injury with complaint of neck and back pain, and three people who will probably not require ambulance transport.
UPDATE 8:28 p.m.: Pavilion command requests Mercy Flight continue to the scene.
UPDATE 8:35 p.m.: Landing zone being set up just south of the accident scene. Mercy Flight as a nine minute ETA. Patient extricated.
UPDATE 8:42 p.m.: Per a Mercy medic on scene, Mercy Flight can go back in service. The patient will be transported by ground ambulance.
UPDATE 9:01 p.m.: Pavilion fire back in service. One fire police remaining on scene to help with traffic control until the vehicles are towed away.
UPDATE 9:29 p.m.: Reader submitted photo added.
January 15, 2012 - 9:24pm
#2
That is 3 different incidents in one report.