Batavia gets ready to Ramble
Submitted by Gretel Kauffman on June 29, 2011 - 1:30pm
Despite its small size, Batavia has long been a hub of music and culture. Five years ago, Bill McDonald, Bill Pitcher, Mike Murray and Kay McMahon decided to celebrate the Batavia music scene with an all-day event featuring local musicians, many of whom have been playing together for years.
On July 2, some of these old friends and bandmates will reunite in Jackson Square for a day of jamming and seeing old friends at the 6th Annual Ramble Music and Arts Festival.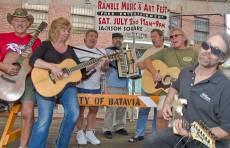 "Our hometown area is so rich in artisitic heritage and we felt that we had the ability, resources, time and means to make a daylong musical arts event happen for folks in Batavia and surrounds," says McDonald of the first Ramble in 2006.
"There was nothing at the time to give our town and its musicians a chance to ramble around Jackson Square and downtown and bring many musicians together."
This year's festival will feature more than 30 local bands that range in genre from acoustic bluegrass to electric rock. The bands will be performing on two separate stages -- one acoustic and one electric -- throughout the day. (See below for the full schedule.) McDonald's own band, The Ghost Riders, will kick off the festival on the electric stage.
Although today McDonald performs mainly with The Ghost Riders and his other band, the Hips, over the past 50 years he has played in countless groups -- "way too many to remember, as 50 years of playing music is a long time."
"It's in my heart and soul and it allows me to fly free over times when I play and sing," he explains. "If one person meets my eye during a song, smiles, sings along or makes contact with me, I feel I'm doing something good while giving great pleasure and purpose to my being."
There are fewer musical venues for young people in Batavia now than there were when McDonald began performing in the '60s, but the music scene has remained strong nevertheless.
"Our small community and the surrounding areas have always had great music with many places for musicians to perform," he says. "The folks in this area have been so supportive over the years. We've made so many friends with music and have tried to keep them entertained.
"You can call it civic spirit, as our hometown and its people have been good to us and we wanted to give something back with a music and arts event of sorts, have some fun, along with a purpose, because that's what we do."
The festival has grown substantially since its humble beginnings five years ago, but still remains a "work in progress with zero-dollars funding."
"We work with what resources and lifelong area connections we've gathered to make it happen," McDonald explains. "It was a challenge and a yearlong effort to try and pull this free event off. We had a get-together attitude, as many did who've contributed. We succeeded with Ramble Number One and decided to make it a yearly event."
The "arts" aspect of the festival doesn't end at the music, as there will also be the opportunity to complete the beginning of a story prompt written by Batavia author Bill Kauffman. All in all, it will be a fun day of music for people of all ages.
The music schedule is as follows:
Electric Stage Acoustic Stage
10:50-11 - Intro 11:10-11:40 - Steve Kruppner
11-11:30 - The Ghost Riders 11:45-12:15 - Sebastian
11:35-12:05 - Bush Hogs 12:20-12:50 - Muggs
12:10-12:40 - Revival 12:55-1:25 - Good Morning
Hellen
12:45-1:15 - Twilight Rangers 1:30-2:00 - Uncle Rog
1:20-1:50 - Red Creek 2:05-2:35 - Dick Cantry
1:55-2:25 - The Fools 2:40-3:10 - The Hips
2:30-3:00 - Warren Skye and Friends 3:15-3:45 - Gridder
3:05-3:35 - Destined 3:50-4:20 - Tim Pitcher and
Friends
3:40-4:10 - Just Got Lucky 4:25-4:55 - Anthony DelPlato
Memorial Celebration
4:15 5-4:45 - Sierra 5:05-5:35 - Erin Elizabeth
Jeffords
4:45-5:00 - Memorial & Presentation to Rose 5:40-6:10 - Chris Humel
5:00-5:30 - Buffalo Road Show 6:15-6:45 - Ken & Jeannie Veltz
5:35-6:05 - Julius 6:50-7:20 - Tom Stamp
6:10-6:40 - The Dob Artists 7:25-7:55 - Tim Luttrell
6:45-7:15 - OSHA 8-8:30 - HoKoMo Dave Armat
7:20-7:50 - Taken 8:35-9:05 - Misty Mountain
7:55-8:25 - Ps100
8:30-9 - Bluesway Jam
June 29, 2011 - 4:29pm
#2
Y'all are starting to get respect from non reprobates. Reprobates have always supported reprobate musicians and other reprobates. Google it goddamnit! Love <3, y'all, aint that cool? Tell Ray Happy Birthday, 60 on July 3rd. Yet, I'm so young like y'all.
June 29, 2011 - 4:53pm
#3
7:25-7:55 - Tim Luttrell, homeboy. Give him a hug.
June 30, 2011 - 11:35am
#4
C'mon George, make the trip up, if you start driving now you could make it!