Local business finds comfort in small town
Submitted by Amy Weidner on December 1, 2009 - 3:47pm
While a lot people shop at the big-box stores for brand names, others choose to support local businesses because they offer unique items and provide good customer service.
Alexander's Molasses Hill Bulk Foods, located at the four corners on Main Street in Alexander, is a successful hometown business that has developed a loyal, local clientele.
Opened by sisters Lucinda and Meghann Morse in December of 2005, Molasses Hill has prospered in a small town.
"Alexander is our hometown. We wanted to be close to home." said co-owner Lucinda Morse.
Though the store is small, it is packed to the brim with quality products. The front of the store carries their baking items and the back of the store is where they serve their well-known subs, salads and soups.
The store carries a wide variety of cooking items, too.
"We have all the baking supplies, candies, spices, dried beans, jellies, soup mixes, and this time of the year we carry the seasoning for jerky." Morse said.
"I like that it's close and convenient," said Connie Bruggman, a longtime resident of Alexander. "I go there for the bakery items. They have lots of special chocolate chips for cookies; the raspberry ones are really good."
Molasses Hill Bulk Foods is worth a trip.
"They're comparable for their quality, you get what you pay for. They buy bulk and break it down to offer their products for a cheaper price." Bruggman said. "I just think it's a nice addition to the town. It brings people into the village and gives the school kids somewhere to go."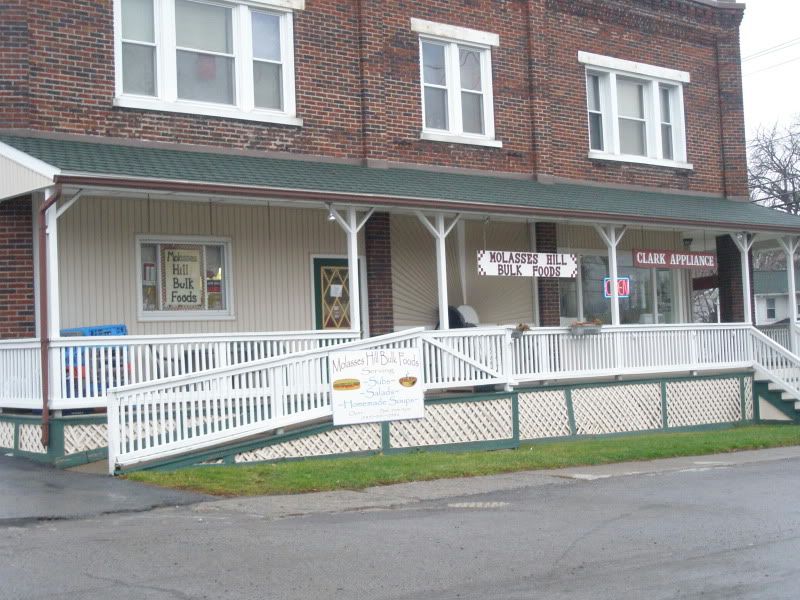 December 1, 2009 - 9:31pm
#2
The biggest subs in the area! bar none a great place to get lunch. Subs so big they make 2 meals
December 2, 2009 - 12:46am
#3
I now have Connie's secret to the wonderful cookies she makes and shares (sometimes)with co-workers! I'm sure all who are blessed to eat one are as appreciative as I. Thanks Connie, and happy holidays to you!
December 2, 2009 - 9:46am
#4
Great Place! Great people!