Two people arrested after overnight stabbing in Le Roy
Submitted by Billie Owens on August 24, 2013 - 1:25pm
Press release from Le Roy PD: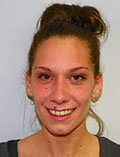 A stabbing in the Village of Le Roy today has led to the arrest of two persons by the Le Roy Police Department.
The incident started about 2 a.m. when 27-year-old Nicole M. DellaPenna and her relative 24-year-old Edward D. McDonald, both of 9 South St. in Le Roy, got into a verbal altercation with multiple others in the area.
During the course of the incident, McDonald allegedly struck the window of one person's vehicle breaking same. DellaPenna then allegedly pulled out a knife out and was threatening others. The incident continued and DellaPenna allegedly advanced towards one person and stabbed the victim in the back near the shoulder blade.
The victim of the stabbing was transported to the hospital for a potentially serious but not life-threatening stab wound.
McDonald was charged with one count of misdemeanor criminal mischief in the fourth degree and issued an appearance ticket to answer the charge at a later date. DellaPenna was charged with one count each of felony assault in the second degree and misdemeanor criminal possession of a weapon in the fourth degree. DellaPenna was arraigned and committed to the Genesee County Jail in lieu of $15,000 bail.
The Le Roy Police Department was assisted by the Genesee County Sheriff's and the NYS Police.