Two cars, motorcycle crash on Bloomingdale Road, Alabama
Submitted by Billie Owens on April 27, 2013 - 2:14pm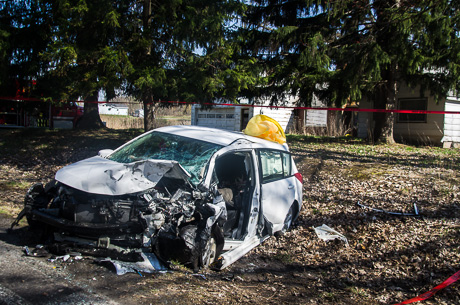 Two cars and a motorcycle have crashed at 649 Bloomingdale Road, Basom. There are injuries and at least one person has serious injuries. Alabama Fire Department and Mercy medics are responding and Mercy Flight is on notice.
UPDATE 3:17 p.m.: Mercy Flight is called to the scene. Akron Fire Police are called to shut down traffic at Bloomingdale and Sand Hill roads. People are trapped. Extraction equipment needed. Three ambulances are called. Indian Falls rescue called, too.
UPDATE 3:20 p.m.: A second helicopter called to the scene. Bloomingdale at Poodry Road is shut down. Paw Smokes is to be the landing zone.
UPDATE 3:29 p.m.: One patient has been extracted.
UPDATE 3:32 p.m.: The second helicopter has an 11-minute ETA.
UPDATE 3:34 p.m.: Pembroke was called as well and is now on scene.
UPDATE 3:40 p.m.: Six Several people were trapped. Only one still needs to be extracted.
UPDATE 3:45 p.m.: All patients have been extricated.
UPDATE 4:01 p.m.: All patients requiring transport to hospitals are en route. The helicopters and medicshave left the scene. One patient was taken to Lockport, three to Erie County Medical Center, and one to "Children's Hospital."
UPDATE 4:08 p.m.: The Pembroke and Indian Falls assignment is back in service.
UPDATE 4:40 p.m.: Earlier, an official at the scene told Howard it appears that a small white sedan was traveling eastbound on Bloomingdale Road and a motorcyclist was traveling behind it. A minivan was headed westbound. For unknown reasons, the white sedan crossed the center line and hit the minivan head on. The motorcycle got tangled up in the crash and the rider had to lay his bike down. The driver and front passenger of the white sedan were transported via the Mercy Flight helicopters. A third occupant, who was riding in the sedan's back seat, was transported via ambulance. The motorcyclist and the driver of the minivan were also taken to hospitals in ambulances.
UPDATE 5 p.m.: Alabama is back in service. The road is being reopened.