Tractor-trailer strikes overpass on Cedar Street
Submitted by Billie Owens on August 23, 2012 - 6:21pm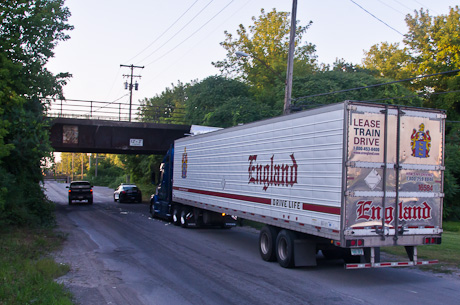 A tractor-trailer has struck the railroad overpass on Cedar Street. Batavia police are responding.
UPDATE 7:38 p.m.: The vehicle has Oklahoma tags. Howard, who went and took a photo, says the top of the rig "was peeled back like a sardine can."
August 23, 2012 - 8:00pm
#4
Maybe he saw a milk truck go down Cedar and figured he could too....... when they re-do Cedar street in a couple years,I hope these bridges are addressed(as in,make them 14' high)..... w/ these new plants going in on east end in the agricultural park,this may become a more common occurence than it already is. Harvester Ave. has tricky corners to navigate,especially w/ 53' trailers.....being that is the next street up from Cedar that goes to 63....of course,it really would help if DRIVERS OBEY HEIGHT SIGNS!!!!! If the state needs some extra money,all they need to do is set up some patrols near the Oakfield Rt.63 sinkhole(more like dip) that they have the road closed off for-the wheatfield to the south has a nice path worn down from vehicles going around barricades-state added more barricades-people just going around extra barricades now in the farmers fields.I even saw a LOADED tractor trailer go around it Tuesday(he was going to the USG plant).