'Suspicious package' in Walmart parking lot results in traffic jam
Submitted by Billie Owens on June 10, 2013 - 4:55pm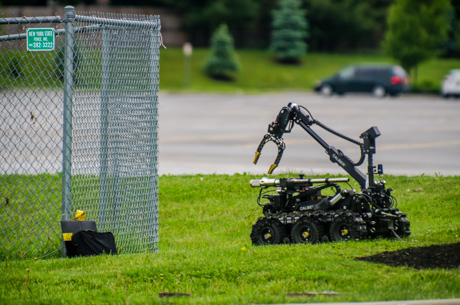 Veterans Memorial Drive is closed to traffic and vehicles traveling on Lewiston Road are bottlenecked after a "suspicious package" was found more than an hour ago in the parking lot of Walmart.
Town of Batavia firefighters, Sheriff's deputies, and State Police responded to the scene as the attempt to remove the object got under way.
UPDATE 6:20 p.m.: "The package was safe," is what a State Police officer told dispatch a moment ago and responders are back in service. Veterans Memorial Drive is reopened. The package in question was a black backpack that was found at the fence at the north entrance to the parking lot, by the retention pond parallel to Veterans Memorial Drive. It seemed suspicious because it had a car antenna next to it with a wire running from it into the backpack. Videotape from Walmart is being reviewed to try and determine who put the backback by the fence.
The package was some distance from the store itself and the majority of shoppers. State Police used their robot to X-ray the package.
Sgt. Ron Meides said authorities needed to exercise every precaution, given the suspicious nature of the package.
UPDATE (by Howard): Turned out to be some sort of computer case, not a backpack. After retrieving an X-ray of the bag's contents and examining the results, State Police gave the all-clear. Authorities obtained pictures from store security cameras of the woman who may have left the package. It's unknown if there was any ill intent or just carelessness.
UPDATE 10:18 p.m.: Sgt. Meides said the woman who left the package was identified and contacted. Prior to going to Walmart, she had sold some items at Pawn King. Some of the items didn't interest the pawn broker, so before entering Walmart, she set the items by the fence. In the process of shopping, she spoke with some people and by the time she left, she had forgotten about the items and walked right past them. No charges are being filed and she was reminded, Meides said, to be more mindful in the future.