Shed fire on Route 5 by South Lake Road, Pembroke
Submitted by Billie Owens on September 23, 2013 - 3:57pm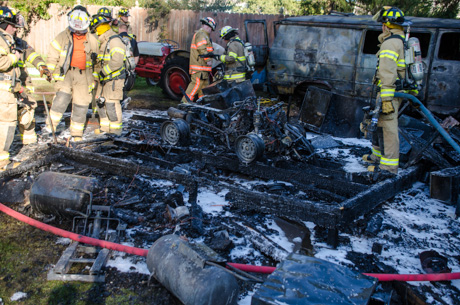 A shed fire (which has also been referred to as a barn) is reported 653 Main Road in Pembroke near South Lake Road. Pembroke command on scene says "there are exposure issues," to a nearby structure. Route 5 and South Lake Road are being shut down. Called to provide mutual aid are: Darien, Corfu, East Pembroke, Indian Falls, Alabama, and Akron.
UPDATE 5:07 p.m.: The fire is knocked down. No exposures involved. They are doing rehab on the shed. Responders still headed to the scene are told to come in non-emergency.
UPDATE 6:13 p.m.: The road is reopened. All responders are back in service.
UPDATE (by Howard): Photos added. No official cause, but it's possibly an electrical fire according to preliminary indications. A van and an ATV were destroyed along with tools.