Serious accident at Route 63 and Fargo Road
Submitted by Billie Owens on January 20, 2012 - 12:03pm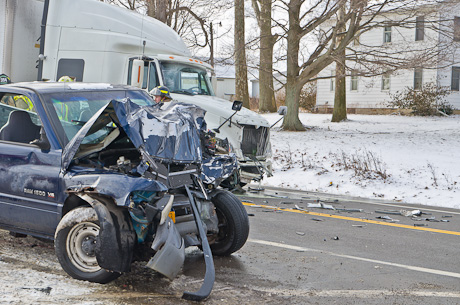 A serious motor-vehicle accident is reported at Route 63 and Fargo Road, which is near Little Canada in Bethany. A passerby who called it in said it looked like a head-on collision of a tractor-trailer and a pickup truck. There are two three victims, one with a head injury.
Bethany Fire Department and Mercy medics are en route. A deputy on scene reports southbound Route 63 is to be shut down. Mercy Flight is called to the scene.
Pavilion is asked to shut traffic down at Route 63 and Route 20, which is Texaco Town. Stafford is asked to shut down traffic on Town Line Road.
UPDATE 11:08 a.m.: Another ambulance is needed. One victim is refusing treatment but the medic "won't let him." The 53-foot trailer of the big rig is intact. It is loaded with 18 tons of laundry detergent.
UPDATE 11:11 a.m.: Mercy Flight will be landing in a cornfield east of the accident site.
UPDATE 11:13 a.m.: Traffic will be shut down at Route 63 and Little Canada Road.
UPDATE 11:14 a.m.: Mercy Flight has landed.
UPDATE 11:25 a.m.: Mercy medics are headed to UMMC with one patient on board.
UPDATE 11:28 a.m.: The patient going to UMMC is coming in for evaluation with complaints of general aches and pains. He is 33. In an unrelated call, a man near the accident scene called dispatch to say his rear window was blown out of his vehicle and he believes he was shot at. He asked that a deputy respond and law enforcement on scene says one will but they are all tied up at the moment.
UPDATE 11:33 a.m.: Mercy Flight is airborne and headed to Strong Memorial Hospital. Roadways are being reopened. Another victim is also being taken to UMMC. The male is suffering from broken ribs and shoulder pain.
UPDATE 12:51 p.m. (by Howard): We'll have more on the accident later this afternoon or evening after the Sheriff's Office releases its report; however, it appears that the driver of the blue pickup truck didn't stop at the intersection and turned left onto Route 63 into oncoming traffic. The semi-truck driver said he barely had time to react before hitting the smaller truck head on.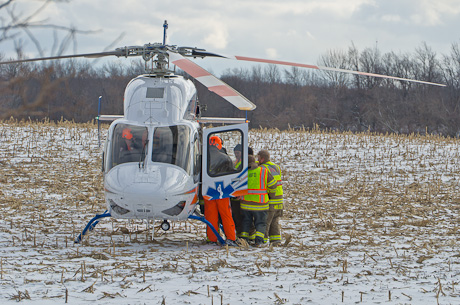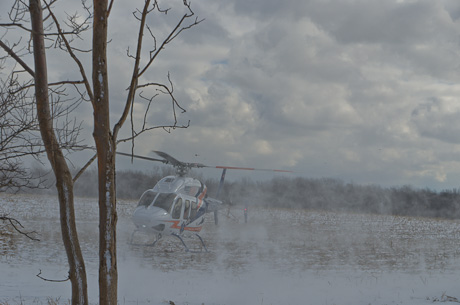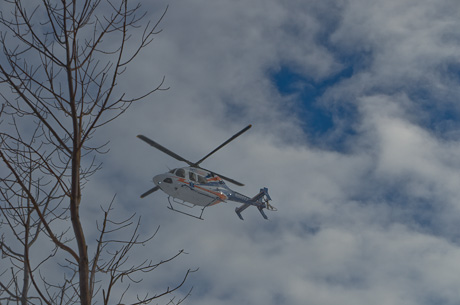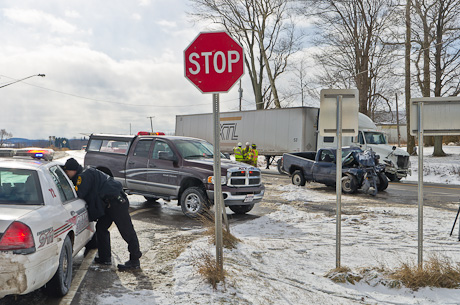 January 20, 2012 - 3:16pm
#3
That's another one of those bad intersections that could benefit from rumble strips being cut into the road surface. The "left turn" onto Rt 63 from that intersection doesn't really even involve turning.