Rollover accident with 'heavy entrapment' on Spring Road, Alexander
Submitted by Billie Owens on February 16, 2013 - 2:39pm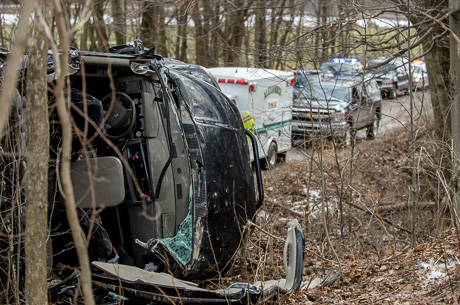 A rollover accident with injuries and "with heavy entrapment" is reported in the area of 3581 Spring Road in Alexander. The nearest available Mercy Flight, in Olean, is airborne. Alexander Fire Department and medics are responding.
UPDATE 1:41 p.m.: The location is at the entrance to Frey's Sand & Gravel Co. Vehicle is on its side. "We're going to need the struts and tools set up when we arrive."
UPDATE 1:44 p.m.: The extrication process is expected to be lengthy.
UPDATE 1:47 p.m.: The ETA for Mercy Flight is 20 minutes.
UPDATE 1:48 p.m.: Mercy medics are on scene.
UPDATE 2:04 p.m.: "We've almost got him out." The helicopter is nearly there.
UPDATE 2:09 p.m.: The patient has just been extricated. Mercy Flight has a three-minute ETA and Strong Memorial Hospital will be its destination once the patient is onboard.
UPDATE 2:20 p.m.: Mercy Flight has landed.
UPDATE 2:30 p.m.: Mercy Flight is headed to Strong.
UPDATE 2:33 p.m.: Alexander is back in service.
UPDATE (by Howard): Landen P. McCormick, 24, of Sandpit Road, Alexander, was driving on a gravel road cutting through farmland owned by his family when he lost control of his 2007 Dodge Ram pickup. The truck appears to have fishtailed, causing it to hit an embankment and roll up a small hill on the west side of the road. McCormick may have suffered a dislocated shoulder and was complaining of chest pain. Because of the nature of the accident and the complaint of pain, McCormick was flown to Strong by Mercy Flight as a precaution. No citations were issued. The accident was investigated by Deputy Chris Parker.