One-car rollover accident, possible serious injuries, on Warsaw Road, Le Roy
Submitted by Billie Owens on September 20, 2013 - 12:29pm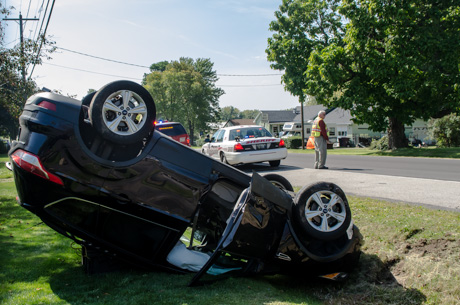 A one-car rollover accident, with possible serious injuries, is reported at 9327 Warsaw Road, near Perry Road, Le Roy. Mercy Flight out of Batavia is contacted and is available. Le Roy Fire and Ambulance Service are responding and Le Roy PD is on scene.
UPDATE 1:29 p.m.: A medic on scene says Mercy Flight will not be needed.
UPDATE 1:31 p.m.: Southbound traffic on Route 19 will be shut down. Firefighters are told to slow down their response and the assignment is held to Engine 62.
UPDATE 1:37 p.m.: The vehicle landed on its roof in a ditch.
UPDATE 1:48 p.m.: Le Roy ambulance is transporting the driver to Strong Memorial Hospital. The road is being reopened. Engine 62 is returning to service along with Le Roy PD. Fire police will remain on scene for awhile.
UPDATE 2:35 p.m.: The road is open. All responders are back in service.