Motor-vehicle accident at Route 98 and West Saile Drive, Batavia
Submitted by Billie Owens on January 27, 2013 - 2:44pm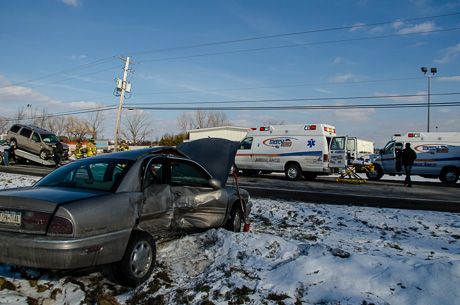 A motor-vehicle accident with unknown injuries is reported in front of Godwin Pumps, located at 8039 Oak Orchard Road (Route 98), and West Saile Drive. Town of Batavia Fire Department is responding.
UPDATE 1:45 p.m.: A responder on scene says "traffic's a mess" and calls for back up for traffic control. She also calls for medics to expedite and says she has two people injured, one of whom "is about to pass out." Two flatbed tows are called ASAP, both are blocking the roadway.
UPDATE 1:54 p.m.: One vehicle is on the west shoulder of the road, the other is in the middle of the road. State Police have southbound Route 98 shut down and Fire Police are going to shut down westbound West Saile Drive. "Looks like everybody's out" says a responder of the vehicles' occupants.
UPDATE 1:58 p.m.: A second Mercy rig is called, emergency mode.
UPDATE 2:10 p.m.: One person is being transported to Strong Memorial Hospital.
UPDATE 2:29 p.m.: A 5-year-old boy is the patient being taken to Strong, reportedly for simply evaluation. It is possible his mother, the driver, is being transported there as well, but that was not confirmed. The two people in the other vehicle were taken to UMMC, one is a female and the other is a 21-year-old male. The roadways are reopened and the Town of Batavia Fire Department is back in service.
UPDATE (by Howard): According to Trooper Frank Velletta, the silver vehicle, driven by a woman from Medina, was pulled over to the side of the road for some reason and then pulled out into traffic to execute a U-turn. The silver car was T-boned by the SUV.