Manhunt in Indian Falls proves futile
Submitted by Billie Owens on June 22, 2011 - 1:02pm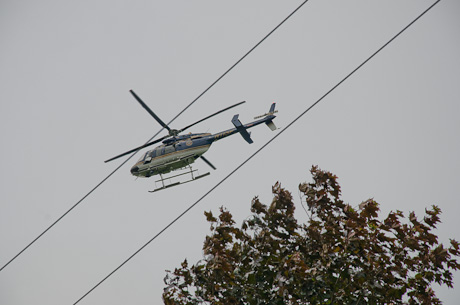 About 20 minutes ago, law enforcement called off an extensive search around Indian Falls and Little Falls roads for a wanted man. The search went on for about an hour.
They say he's known locally and "will turn up."
The man, whose name has not been released, has warrants out of Ontario County and was allegedly driving a vehicle without a driver's license.
He was spotted by state Trooper Holly Hanssel, who attempted to make a traffic stop, prompting the suspect to flee on foot.
She called in additional law enforcement, and Batavia police and Sheriff's deputies responded, along with a K-9 team and a state helicopter.
They combed both sides of the Tonawanda Creek and at some point found muddy footprints, and it is believed he crossed over in a couple of places.
He's described as being white, about 5'8", with a medium to heavy built, tattoos, a shaved head and sporting a goatee. No description of clothing was given.
UPDATE 2:43 p.m.: The suspect was possibly spotted near Route 77 wearing a red shirt and black shorts. A resident with a gun had chased the suspect to a picnic cookout area where the guy ran down an embankment. The resident contacted law enforcement and subsequently went home. The Sheriff's K-9 unit is scouring the area but officers "do not have a visual" on him.
UPDATE 4:21 p.m.: The suspect was apprehended at 3:17 p.m. Some time later, one deputy was heard on the scanner congratulating Deputy Brian Thompson on "another awesome job." Deputy Thompson, in response, gave credit to K-9 "Pharoah."