Garage fire on Pearl Street
Submitted by Billie Owens on June 11, 2012 - 1:41pm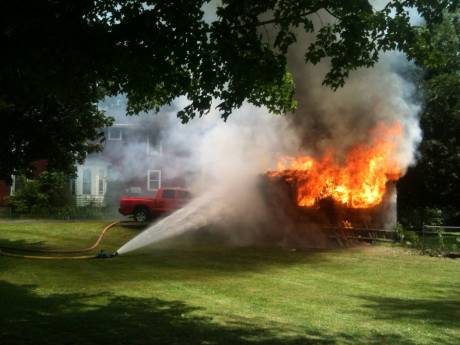 A garage fire, with heavy smoke showing, is reported at 33 Pearl St. City fire is responding. It's now a second alarm.
UPDATE 1:42 p.m.: A responder on scene says the fire is fully involved. There are no people inside. There is some fire exposure to an adjacent structure. Alexander's Fast Team is called to the scene and the Town of Batavia will send a fire crew to fill in at the city station. Two mercy rigs are called in case needed.
UPDATE 1:45 p.m.: Now they are saying people are believed to be still inside the structure on the second floor.
UPDATE 1:49 p.m.: Elba's "Cascade" is called to the scene.
UPDATE 1:50 p.m.: The fire has spread to the house. The location is between Franklin Street and Brooklyn Avenue.
UPDATE 1:53 p.m.: The fire inside has been knocked down.
UPDATE 1:54 p.m.: A truck at the site is also on fire.
UPDATE 2:05 p.m.: They've confirmed that there's no one inside the structure. National Grid is called to the scene.
UPDATE 2:09 p.m.: They checked for extension into the small attic. There is smoke and heat, but no flames.
UPDATE 2:16 p.m.: The Salvation Army is called to provide cold drinks at the scene.
UPDATE 2:22 p.m.: Power to the structure has been disconnected. The American Red Cross is called to provide housing for five adults.
UPDATE 2:28 p.m.: City command reports that the fire is under control.
UUPDATE 2:41 p.m.: Three cats and one puppy are unaccounted for. The three cats lived in the downstairs unit and the puppy lived in the upper apartment, where the fire extension occurred.
UPDATE 2:58 p.m.: The cats are actually kittens, and two of the three have been rescued.
UPDATE 3:07 p.m.: All three cats have been rescued -- only two were kittens. No word still on the pup.
UPDATE 3:16 p.m.: Residents of the building say more than five people lived there. They say five lived upstairs, three lived downstairs and two in the basement. The fire started in the garage. Two people are being interviewed at the police station.
UPDATE 3:27 p.m.: Town of Batavia and Elba are back in service, and so is East Pembroke, which filled in at the town's station.
UPDATE 4:03 p.m. (by Howard): As of about 20 minutes ago, the puppy had not been located. It's a 10-week-old chihuahua.
UPDATE 4:16 p.m. (by Howard): City building inspector requested to the scene.
UPDATE 4:25 p.m.: Ladder 15 and Engine 12 are back in service. Others from city station remain at the scene to continue their investigation. The code enforcement officer is there. Regretably, the puppy was found. He didn't make it.
UPDATE 5:05 p.m.: Engine 14 is back in service.
June 11, 2012 - 2:28pm
#4
I know some of those tenants - good, kind, hard-working people. This is sad. I hope they are able to get some emergency supports. Help like that is so lean these days.