Car strikes motorcycle and its two riders, one of them is unconscious and in 'rough shape'
Submitted by Billie Owens on August 4, 2013 - 11:11am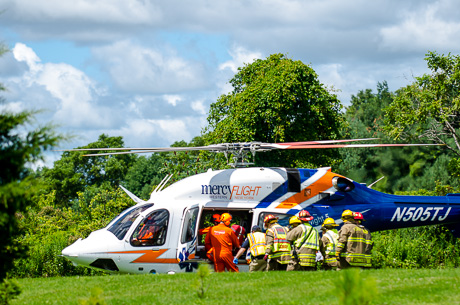 A car struck a motorcycle with two riders on it at Selden and West Bergen roads. One of them "is in pretty rough shape," is unconscious and has serious injuries. Le Roy fire and ambulance is responding along with Mercy medics.
Mercy Flight from Batavia is called and has a seven- five minute ETA, plus they are prepping another helicopter in Buffalo in case it's needed.
UPDATE 12:13 p.m.: The driver of the vehicle is also injured. The Buffalo helicopter is also requested to the scene. It has an 18-minute ETA.
UPDATE 12:19 p.m.: The second helicopter from Buffalo is cancelled.
UPDATE 12:20 p.m.: Selden Road is being shut down.
UPDATE 12:23 p.m.: Mercy Flight has landed west of the scene in a grass field by a brown house.
UPDATE 12:29 p.m.: There is one fatality. Another patient is being prepped for transport to a hospital by Mercy Flight.
UPDATE 12:33 p.m.: An engine from Stafford is requested to stand by in Le Roy's fire hall.
UPDATE 3:37 p.m.: State Police called to inform us that family notifications have been made, but no further information will be released for at least a couple of hours.
UPDATE 4:12 p.m.: Le Roy and Stafford are back in service.
UPDATE: For people coming directly to this story from Facebook, the updated story is here.
August 4, 2013 - 1:02pm
#2
any age given on the fatality billie?
August 4, 2013 - 1:28pm
#3
We don't publish any information that might identify a victim until we know family notifications have been made. We will provide full details once that information is released by the State Police, probably later today.