Car crash on West Main Street Road, Town of Batavia
Submitted by Billie Owens on October 22, 2013 - 6:45pm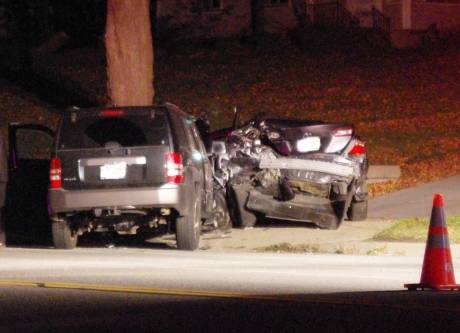 Photo by Michelle Taylor.
A motor-vehicle accident is reported on West Main Street Road in the Town of Batavia, which has its fire department responding along with Mercy medics. Mercy Flight is called to the town's Highway Department.
UPDATE 7:46 p.m.: Sheriff's deputies are also responding. The highway department is located at 3833 W. Main Street Road.
UPDATE 7:49 p.m.: The accident is blocking both lanes of traffic.
UPDATE 7:50 p.m.: One patient has an "angular fracture to the right leg."
UPDATE 7:57 p.m.: Mercy Flight has landed in the parking lot of the Town Hall. That option was chosen due to concern about the gravel on the ground at the adjacent Highway Department.
UPDATE 8:45 p.m.: Town of Batavia's assignment is back in service and both westbound lanes are reopened.