Sponsored Post: City Slicker's is now open in Downtown Batavia
Submitted by The Batavian on May 31, 2012 - 8:37pm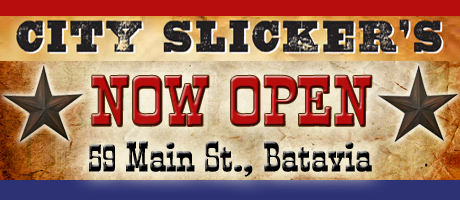 Batavia's newest All-American restaurant is now open -- City Slickers, at 59 Main St. (the former South Beach location) -- featuring a completely renovated interior with original art and an Americana theme.
The menu is all new, too.
City Slicker's serves 24 different draft beers and there are 10 big screen TVs in the bar area.
The new menu offers a variety items, from steaks and ribs, rotisserie chicken, and cheeseburgers, to quesadillas and a large selection of salads.
Be sure to try the Freedom Fries!
Join the fun on select evenings for City Slicker's upbeat piano bar of Americana and Southern Rock music.
FRIDAY NIGHT: From 7 to 11 p.m., Wes Chapman on piano and starting at 11 p.m., MTV's Johnny Bananas will be at City Slicker's for pictures and autographs.
SATURDAY NIGHT: Wes Chapman is back at the piano from 7 to 11 p.m.
And, The Patio is Open! Come on Down!
Make sure to LIKE City Slickers Bar & Grill on Facebook too! Facebook.com/CitySlickersBar
I ate there tonite, food was great....Service was excellent....great selection of Beers....Thumbs up to Mr.Mistler.....Good Luck..
Glad to hear you're finally open Kenny. We'll be there to see you soon!